Torquay is the surf capital of Australia with all the massive big name surf shops and the world famous Bells Beach just around the corner.
Learning to surf is "The iconic Australian" activity to do.
There is no better place than the Surf Capital of Australia – Torquay.
You will be surprised how easy we make it to stand up on a surfboard.
Learn to surf is easy with Go Ride A Wave. We have been teaching learn to surf since 1987. Our experience and large range of beginner equipment will make your surf lesson unforgettable. 
Torquay Surf Shop and School
Our surf school specialises in daily beginner surf lessons. Group and private lessons are also available on request. Torquay learn to surf is run by Go Ride A Wave, Australia's favourite surf school, established in 1987. Our shop is the closest shop possible to the beach. It is only a short walk for either lessons and hire.
The shop has showers, toilet and change rooms. It also has a rear wet entrance, to avoid wet clients and gear tramping through the new retail fear in the front of the shop.
We also have a wide range of surf hire available, which includes a full range of soft learner "Gboards" and a full range of NSP hardboards design for intermediate and advanced surfers. For cold weather and during winter we also hire out warm winter 4/3 wetsuits.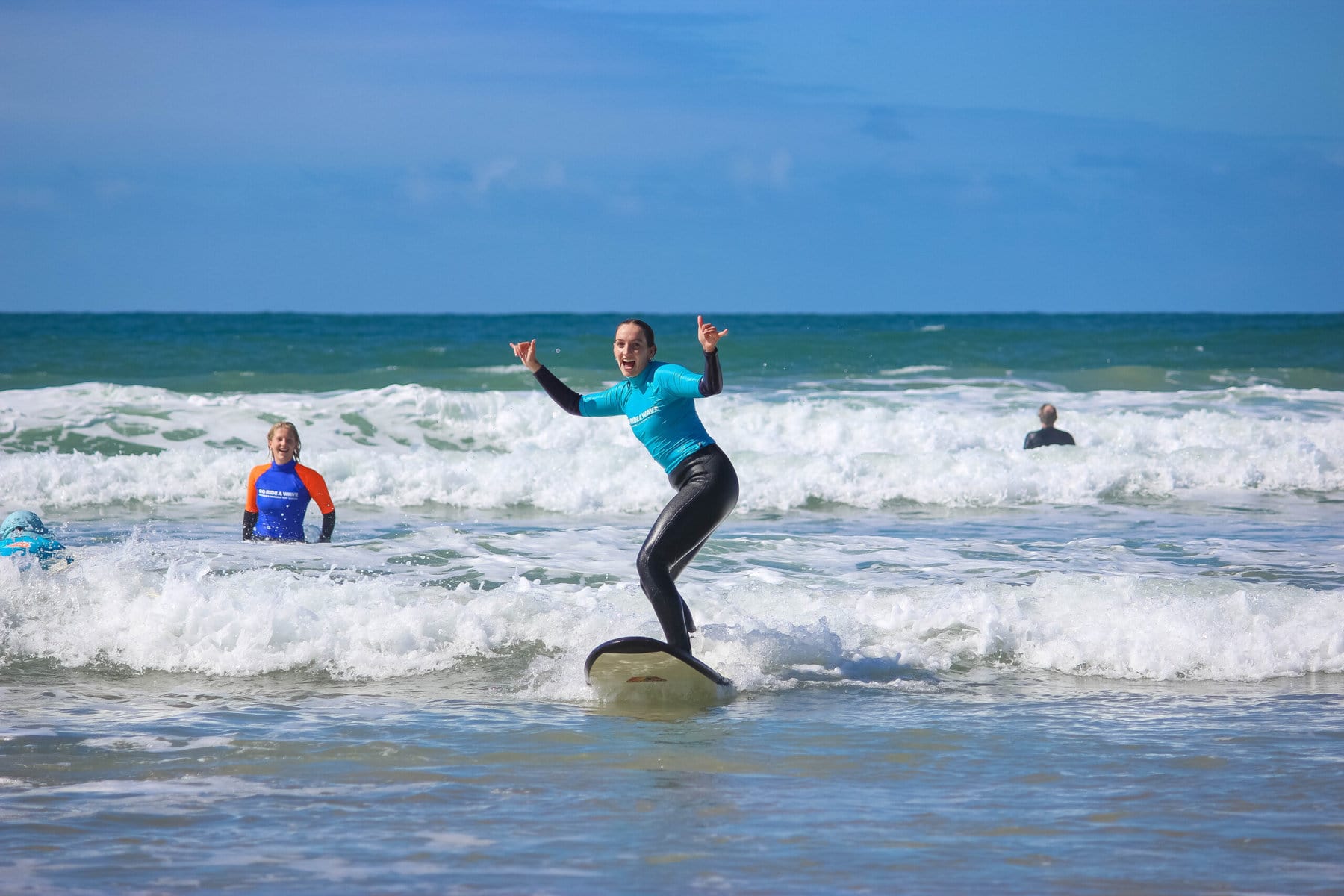 Why Choose the Surf Experience
The Surf Experience at Torquay, is the perfect introduction to learn to surf, for those that want to have a Surf Experience. 
Our key objective in the Surf Experience in Torquay is to get you standing up on a surfboard and having fun.
You will be wanting to upgrade to the Surf Course after your first lesson, learn to surf lessons everyday.
We run these learn to surf lessons everyday.
You will receive a 2 hour introductory learn to surf lesson, all equipment, and an overview of surf safety.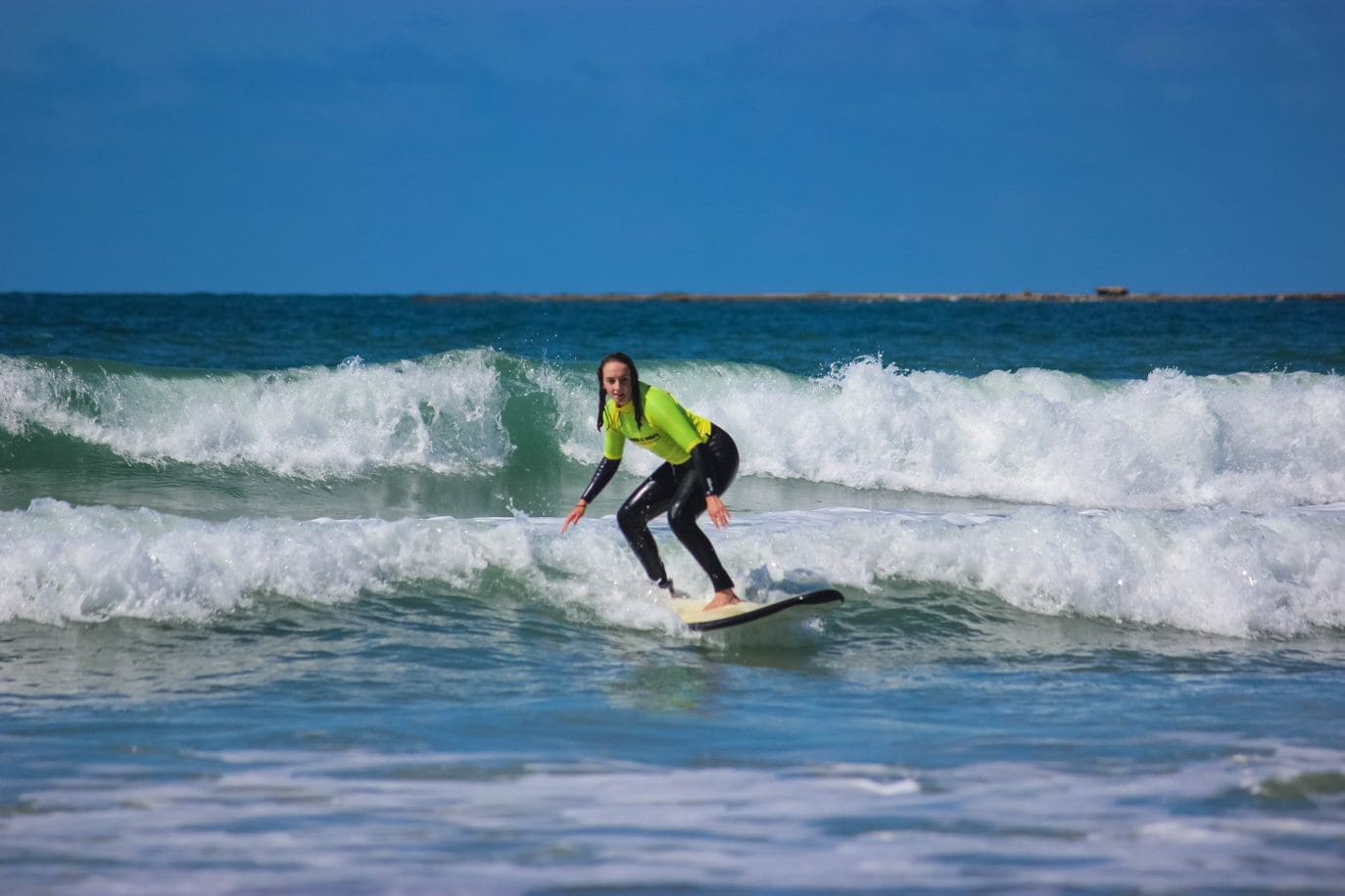 Why Choose The Surf Course
The Surf Course at Torquay, is perfect for those who want to learn to surf. This is a valued packed learn to surf course.
We have designed the course to provide all the information and confidence to go from a complete beginner to an intermediate level. After completing this course you will be more confident to continue surfing by yourself, or with your friends.

We run these learn to surf lessons everyday.
You will receive 3 Learn to surf lessons, all equipment, plus 12 online learning modules to teach you all the fundamentals you need to know to become a confident surfer.
Everyone should meet at our shop at least 15minutes before the start time of your lesson. You will be provided with a full length Quiksilver wetsuit and a soft beginner surfboard and walk to the beach.
The lessons begin on the sand with a safety briefing and some basic instruction.
We conduct almost all our lessons in waist deep water and consequently this keeps it safe for everyone. After catching some waves we will return to the beach for more detailed instruction about how to stand up.
The rest of the lesson will be spent in the water with the instructor helping everyone to stand up on a wave.