Daily 2 Hour Surf Lessons at Coolangatta
Coolangatta surf lessons are held every day at the best tide times. They are 2  hour surf lessons for beginners. Please chech the online bookings for current lesson times.
This surfing spot on the iconic Gold Coast is the quiet possibly the best location to learn and progress you're surfing skill set.
The Greenmount headland allows for sheltered surfing conditions from the wind and the elements.
Surf Lessons include long sleeve rashies (wetsuits in winter) and soft beginner surf boards with 2 hours of instruction and fun.
We run our surf school out of the carpark at the Greenmount Surf club. We are also very close to the Coolangatta Airport and not far from Kirra Surf shop.
Surf Lessons Coolangatta/Greenmount
Coolangatta is one of the safest beaches on the Gold Coast because it is a sheltered beach.
Many of the other beaches on the Gold Coast are open to the main swell and wind.
They can get large waves with strong currents and can consequently be quite dangerous.
The predominant strong wind and swell on the Gold Coast comes from the South East. The point at Snapper Rocks shelters Greenmount/Coolangatta from these dangers and as a result it is usually very safe.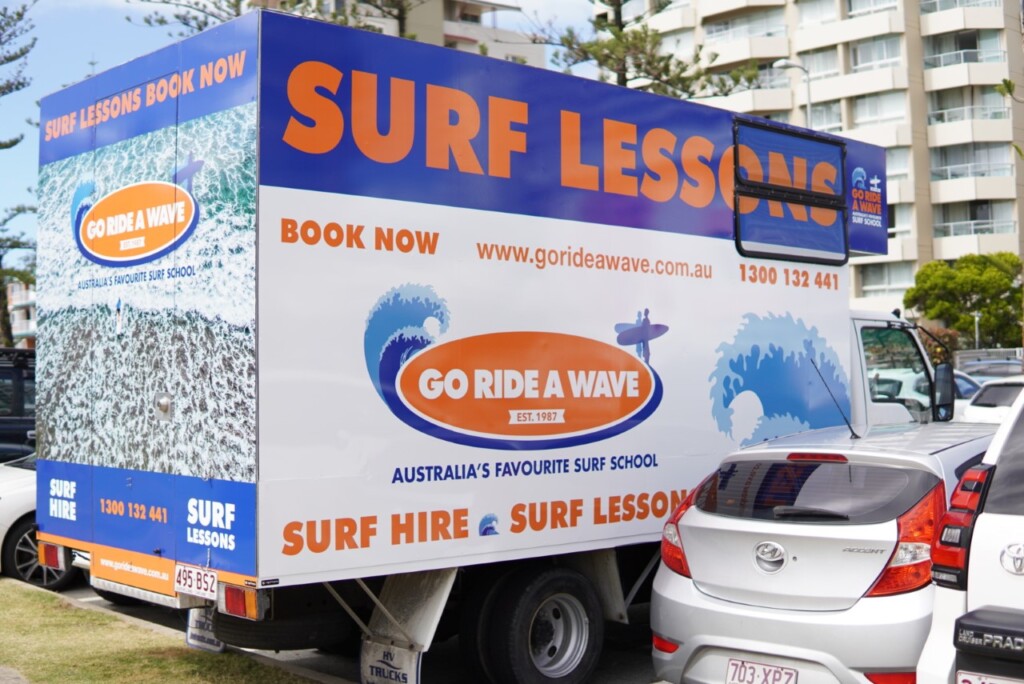 We park our truck in the car park at the Greenmount Surf Club. 
Car parking can be busy, so we recommend that you walk from your accommodation and avoid car park rage.
We carry out our lessons close to the shore, in waist deep water, to keep it safe, while the competition and experienced surfers go out deeper and catch the waves coming off the point.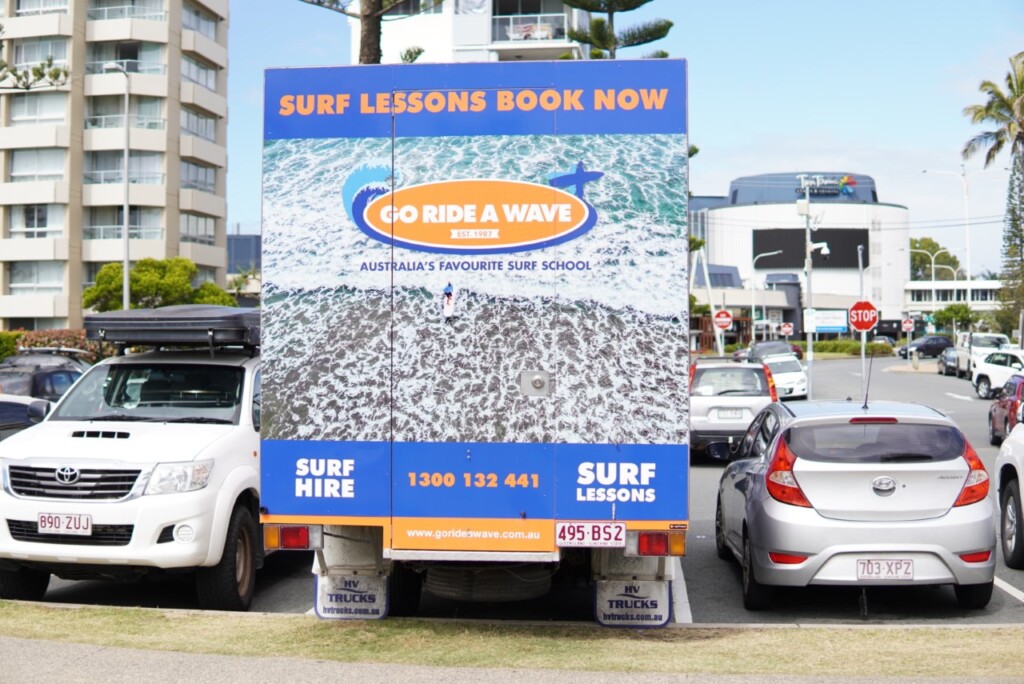 Coolangatta/Greenmount is a famous surfing location at the Southern end of the Gold Coast. It is just around the point from Snapper Rocks and close to Coolangatta CBD
Turn off the Gold Coast Highway towards Coolangatta When You arrive in Coolangatta you follow Marine Parade all the way to the end where you will find Greenmount Surf Club car park. Look around and you will see our big Learn to Surf truck.
We meet in the car park on the South Side of the Greenmount Surf Life Saving Club.
The Carpark is opposite the Coolangatta McDonalds and Rip Curl shop just 100m to the south you will see our Learn to Surf Truck. It is just a short walk from Coolangatta CBD.
Things to do in Coolangatta QLD