Lets talk about Breamlea
Breamlea is a secluded seaside hamlet located on the south coast of the Bellarine Peninsula halfway between Barwon Heads and Torquay. The patrolled surf beach at Breamlea is called Bancoora, and is the closest surf beach to Melbourne
There is a great deal of open space in Breamlea, primarily to protect areas of environmental significance, such as wetlands, sand dunes and saltmarsh. Definitely keep an eye out for the birds inhabiting the Breamlea beaches included the threatened Hooded Plover.
Bancoora Beach is picturesque, natural beach spanning approximately 1.2 kilometres. The curling waves are a favourite with board riders and bodysurfers making a surf lesson very inviting.
Breamlea near Torquay, Surf Lessons at Bancoora Beach
Bancoora Beach is a quieter beach in between Torquay and Barwon Heads.
We plan to run daily lessons for the general public during the December/January School holidays and then on weekends up until easter.
We will also run school group sessions at Bancoora especially when it is busy at Torquay or if we have a large group who can not all fit at Torquay.
Bancoora Beach has a special resident for much of the year that we all need to be careful of. The Hooded Plover nests at the beach and can leave its nest if disturbed and lose its young.
For that reason we need to be careful to keep away from any breeding birds. They will also attempt to keep everyone away from their nest in the sand.
We run the lessons in waist deep water to keep it safe. We provide full length Quiksilver wetsuits and soft beginner surf boards (G Boards) with 2hours of instruction and fun.
In school holidays there are more children in the lessons and outside school holidays we get mostly adults.
Bancoora Beach is an excellent location to begin your surfing journey.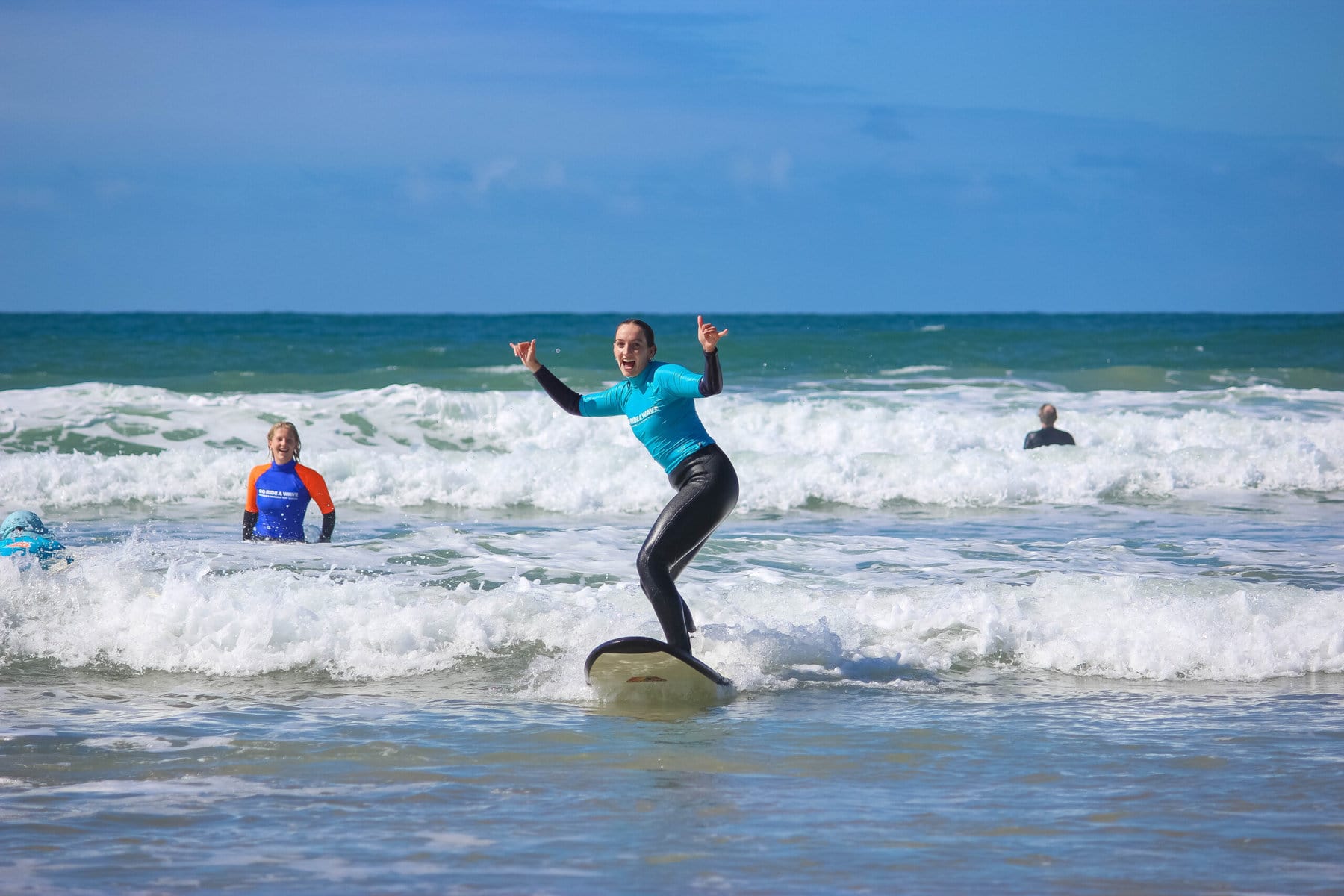 Why Choose The Surf Experience
The Surf Experience at Breamlea is the perfect introduction to learn to surf, for those that want to have a Surf Experience. 
Our key objective in the Surf Experience in Breamlea is to get you standing up on a surfboard and having fun.
You will be wanting to upgrade to the Surf Course after your first lesson.
We run these learn to surf lessons everyday.
You will receive a 2 hour introductory learn to surf lesson, all equipment, and an overview of surf safety.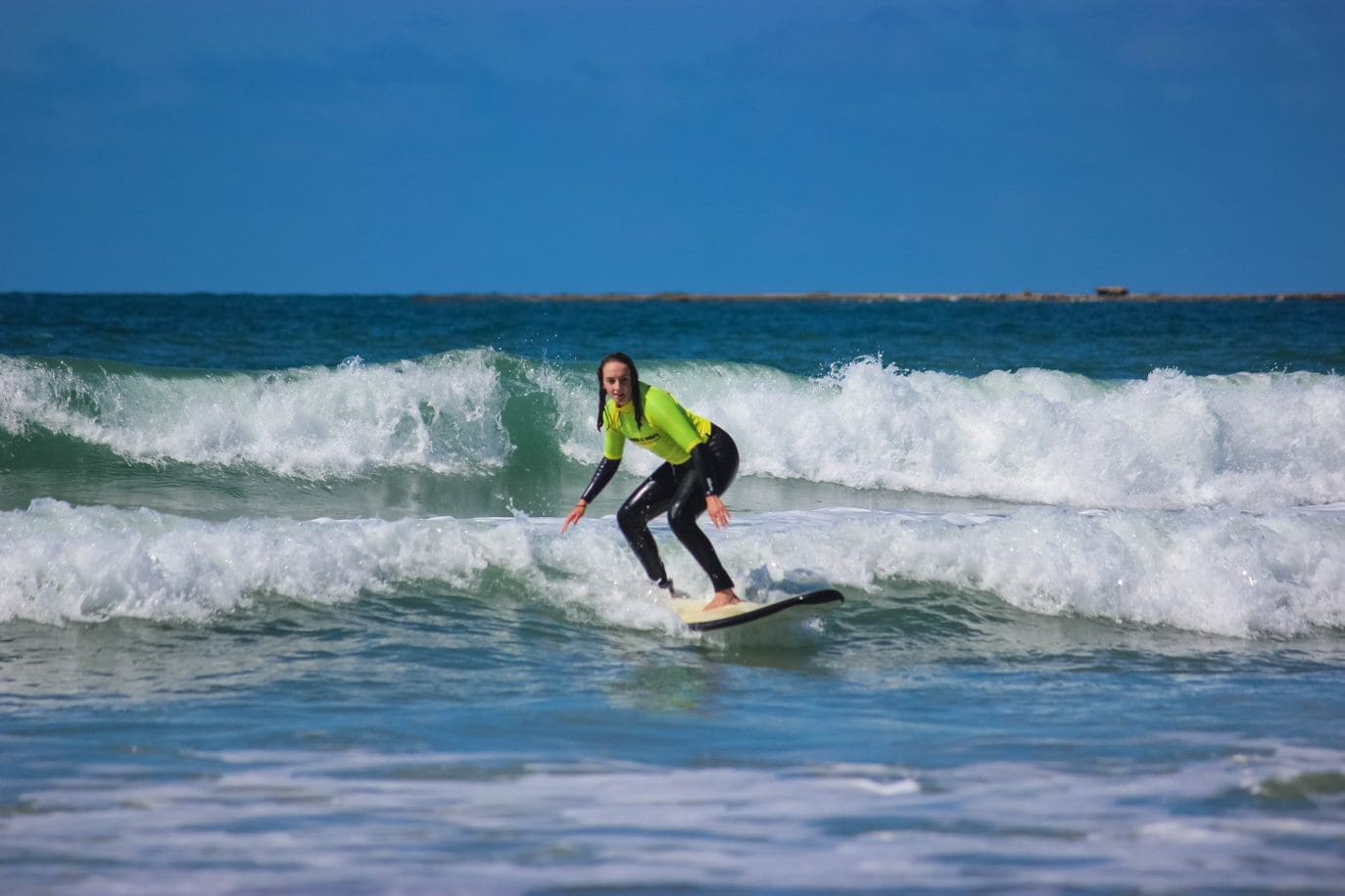 Why Choose the Surf Course
The Surf Course at Breamlea is perfect for those who want to learn to surf. This is a valued packed learn to surf course.
We have designed the course to provide all the information and confidence to go from a complete beginner to an intermediate level. After completing this course you will be more confident to continue surfing by yourself, or with your friends.
We run these learn to surf lessons everyday.
You will receive 3 Learn to surf lessons, all equipment, plus 12 online learning modules to teach you all the fundamentals you need to know to become a confident surfer.