Surfers Paradise Learn to Surf
Surfers Paradise learn to surf is a must for any visitor to the Gold Coast. Conditions at Surfers Paradise learn to surf are ideal for surf lessons and surf hire with warm water, patrolled beaches, and one of Australia's most iconic surf destinations.
Our surf school specialises in daily beginner surf lessons.
We conduct almost all our surfing lessons in waist deep water, to keep it safe for beginners. Surfers Paradise learn to surf is run by Go Ride A Wave – Australia's favourite surf school, established in 1987.
Surfers Paradise is the one of the most popular holiday destinations in Australia.
It is where you'll find the city and beach lifestyles combine. It has a spectacular skyline and brilliant stretch of coast. We run lessons everyday at 10am and 1pm.
Our shop is across the road from the famous Surfers paradise sign at the beach end of Cavill Mall. This location is one of busiest tourist destinations in Australia.
The beautiful beaches, perfect weather and warm water, makes Surfers Paradise learn to surf the best place to begin your surfing journey. We also offer lessons at Broadbeach.
We have a range of hard, NSP surfboards for intermediate surfers, and soft beginner boards (GBoards),  available for hire. Go Ride a Wave Surfers Paradise is the only shop that offers surf lessons on the Gold Coast.
Our surf school is open 7 days a week all year round. We are members of Surfing Queensland Surf Schools.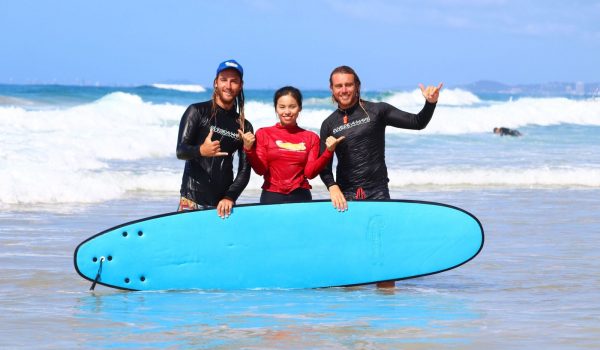 Why Choose the Surf Experience
The Surf Experience at Surfers Paradise is the perfect introduction to learn to surf, for those that want to have a Surf Experience. 
Our key objective in the Surf Experience in Surfers Paradise is to get you standing up on a surfboard and having fun.
You will be wanting to upgrade to the Surf Course after your first lesson.
We run these learn to surf lessons everyday.
You will receive a 2 hour introductory learn to surf lesson, all equipment, and an overview of surf safety.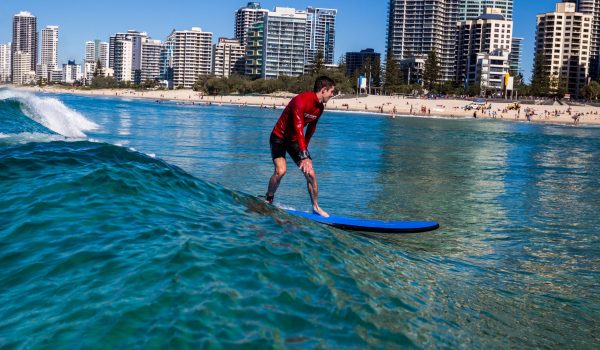 Why Choose the Surf Course
The Surf Course at Surfers Paradise, is perfect for those who want to learn to surf. This is a valued packed learn to surf course.
We have designed the course to provide all the information and confidence to go from a complete beginner to an intermediate level. After completing this course you will be more confident to continue surfing by yourself, or with your friends.
We run these learn to surf lessons everyday.
You will receive 3 Learn to surf lessons, all equipment, plus 12 online learning modules to teach you all the fundamentals you need to know to become a confident surfer.
Only 1 hour's drive south from Brisbane CBD and 45minutes north of Byron Bay. You will easily find our Surfers Paradise learn to surf shop in "The Paradise Centre" located in Cavill Mall.
Directly next to Hungry Jacks, 60m down the mall from the Iconic Surfers Paradise sign..
Greyhound bus services operate daily from Brisbane and Byron Bay. Local buses and light rail also run regularly.
Plan your trip with public transport here.