Ocean Grove Learn to Surf
Ocean Grove learn to surf is one of the most popular beach destinations for all on the Bellarine Peninsula, due to its beautiful long beaches and plenty of car parking.
This is a great location for learn to surf for beginners and also for those who have more experience.
Conditions are ideal for surfing lessons or surf hire with beautiful clean water, a safe beach with gentle rolling waves, and a headland to provide shelter from the strong South Westerly winds. Ocean Grove beach is one of the best beaches for learn to surf in Australia.
Our surf school specializes in daily, beginner surfing lessons. Group and private surfing lessons are also available on request.
Surfing lessons are run in waist deep water, and as a result we are able to keep it safe for beginners.
Ocean Grove learn to surf is run by Go Ride A Wave, Australia's favourite surf school which began in 1987.
We have a mobile operation and we operate every day over our peak period.
Our trailer is next to the boat ramp that leads to the beach, on the beach side of the new toilet facilities.
We meet for lessons at least 10 minutes before the start time.
This will allow time to complete some paperwork and select the correct size wetsuit and pick out the right size surf board.
Ocean Grove learn to surf  run surfing lessons everyday. (Minimum numbers do apply). We run a mobile operation, so we will only be available for hire during the times we have lessons going.
Surf hire is available every day during the Christmas school holidays except Christmas Day and New Years Day.
We have a full range of soft surfboards "Gboards", we also have body boards and wetsuits available for hire too.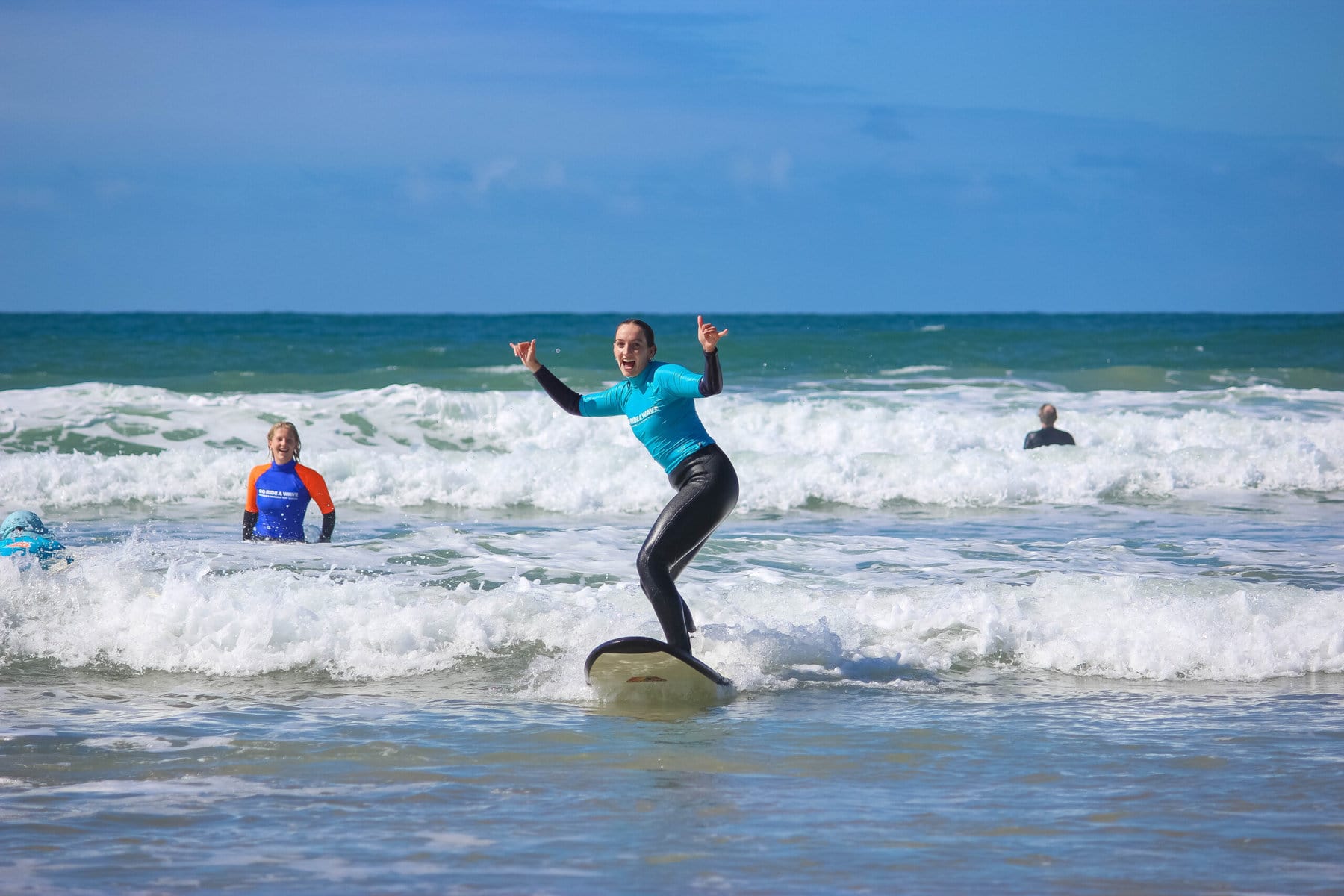 Why Choose the Surf Experience
The Surf Experience at Ocean Grove is the perfect introduction to learn to surf, for those that want to have a Surf Experience. 
Our key objective in the Surf Experience in Ocean Grove, is to get you standing up on a surfboard and having fun.
You will be wanting to upgrade to the Surf Course after your first lesson.
We run these learn to surf lessons everyday.
You will receive a 2 hour introductory learn to surf lesson, all equipment, and an overview of surf safety.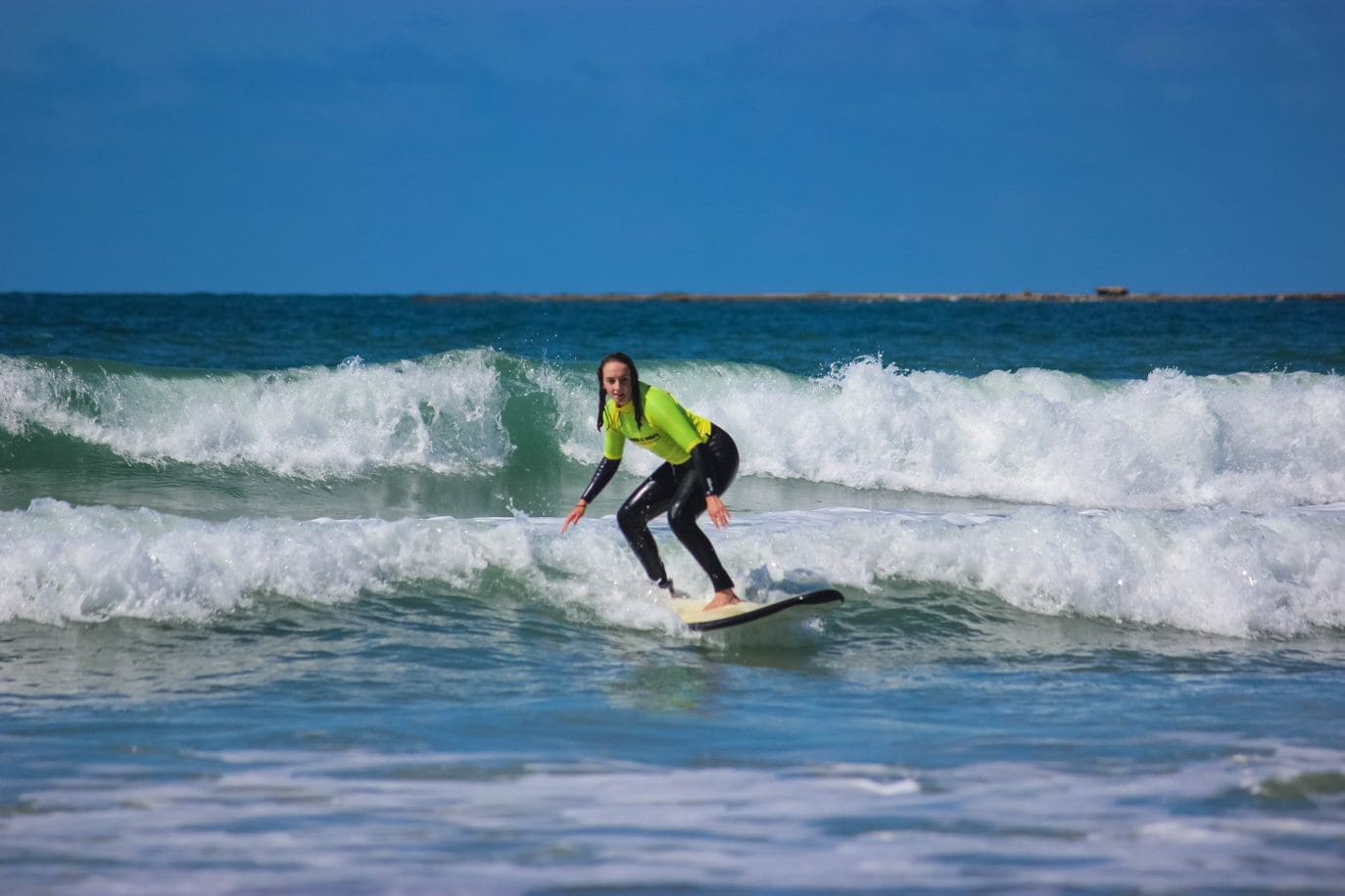 Why Choose the Surf Course
The Surf Course at Ocean Grove is perfect for those who want to learn to surf. This is a valued packed learn to surf course.
We have designed the course to provide all the information and confidence to go from a complete beginner to an intermediate level. After completing this course you will be more confident to continue surfing by yourself, or with your friends.
We run these learn to surf lessons everyday
You will receive 3 Learn to surf lessons, all equipment, plus 12 online learning modules to teach you all the fundamentals you need to know to become a confident surfer.
Coming from Geelong via Barwon Heads, as you enter Ocean Grove via the Barwon Heads bridge, turn right into Surf Beach Road.
You'll see the main beach carpark on the right hand side, 200 metres past the Surf Life Saving Club you will find our trailer (near the toilet block).
Ocean Grove is very accessible by personal transport or public transport. There is a regular bus service leaving Geelong daily, and Geelong is easily reached from Melbourne via Vline trains. Trains leave every hour.