Broadbeach learn to surf is a must for any visitor to the Gold Coast. Conditions at Broadbeach learn to surf are ideal for surf lessons and surf hire with warm water, patrolled beaches, and one of Australia's most iconic surf destinations! Our surf school specializes in daily beginner surf lessons.
Group and private lessons are also available on request. We conduct our surfing lessons in waist deep water, as a result we are able to keep it safe for beginners. Broadbeach learn to surf is run by Go Ride A Wave,  Australia's favorite surf school established since 1987. Furthermore, we are part of Surfing Queensland Surf Schools.
Broadbeach is one of the most popular holiday destinations in Australia. Broadbeach is where you will find the city and beach lifestyles combine.
It has a spectacular skyline and a brilliant stretch of coastline.
Broadbeach is the shopping precinct on the Gold Coast, with all the newest shops and buildings in the area. Consequently, it has become the destination of choice for Australian holiday makers coming to the Gold Coast.
In addition, there is plenty of accommodation available. We are close to the Casino and Convention Center and only as short walk from Pacific Fair Shopping Center.
Go Ride A Wave has recently bought Gold Coast Surf Academy and is now operating using both names.
Go Ride a Wave offers 2hour surf lessons every day at Broadbeach at 10am and 2pm. Most of all, we provide a safe, fun, exciting experience that everyone can enjoy. The lessons include the use of a long sleeve rash shirt or wetsuit, a soft beginner surf board and 2 hours of instruction and fun.
We run our lessons from the car park at the Kurrawa Surf Life Saving Club. There are toilets and also showers nearby so you can wash off the salt and sand after the surf lesson. 
We can also arrange photos to prove that you were able to stand up, if you would like us to.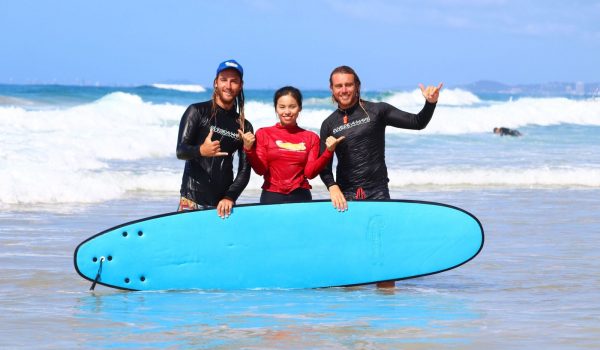 Why Choose the Surf Experience 
The Surf Experience Broadbeach is the perfect introduction to learn to surf, for those that want to have a Surf Experience. 
Our key objective in the Surf Experience in Broadbeach is to get you standing up on a surfboard and having fun.
You will be wanting to upgrade to the Surf Course after your first lesson.
We run these learn to surf lessons everyday.
You will receive a 2 hour introductory learn to surf lesson, all equipment, and an overview of surf safety.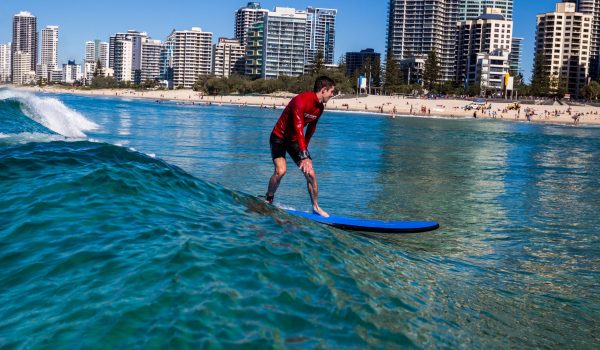 Why Choose the Surf Course
The Surf Course at Broadbeach is perfect for those who want to learn to surf. This is a valued packed learn to surf course.
We have designed the course to provide all the information and confidence to go from a complete beginner to an intermediate level. After completing this course you will be more confident to continue surfing by yourself, or with your friends.
We run these learn to surf lessons everyday.
You will receive 3 Learn to surf lessons, all equipment, plus 12 online learning modules to teach you all the fundamentals you need to know to become a confident surfer.
You can easily walk to our meeting point at the Kurrawa Surf Club from most of the Broadbeach Hotels and Resorts.
If you are driving along the Gold Coast Highway, you need to turn towards the beach at the intersection between The Star Casino and Pacific Fair Shopping Centre.
This is Margaret Avenue and when you come to the T intersection you should turn left towards the Kurrawa Surf Club and find a car park nearby. Head to our big white van in the car park beside the surf club to meet the instructor.
Plan your trip with public transport here.
Meet at our Big White Van in the car park beside the Kurrawa Surf Life Saving Club in Old Burleigh Road.